Since I was sick yesterday and missed Miscellany Monday, I decided to just move it up a day. So happy Tuesday!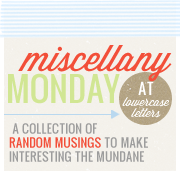 Thank you
Thank you for all the well wishes and prayers for my mom. Many have asked for an update. She is still in the hospital. Friday morning she was feeling better, but then by the afternoon/evening she was feeling pretty awful again. They took an x-ray and it came back with her lung looking murky. They decided they wanted to do a biopsy. They weren't able to do it on Saturday due to her veins being blown from all the poking and prodding, so they had to put in a PICC line so that they wouldn't have to keep searching for veins. On Sunday they did the biopsy and cultures. It went well on the doctors end of things, but my mom didn't handle it too well. I guess they didn't use enough meds, so she was pretty traumatized afterwards. It took an hour, but my dad was finally able to calm her down. They took another x-ray (I think) and it came back looking good. The infection around her heart was viral. We are supposed to find out *crossing my fingers* today the results of the cultures and the biopsy. If they come back looking good then she should be able to go home in a day or two.
Snow
Remember all that snow that was going to be at camp and the reason for my needing yet another pair of snow boots? Yeah, well, we got to camp and there was zero snow on the ground. Zero! Did that stop me from wearing them? Heck no! It was super muddy out, so I wore them all weekend. :)
Luggage
I know this is going to come as a shock, but I over-packed for this weekend. Like big time! I could have stayed an entire extra week! I used my large suitcase with the wheels on it and rolled it along the road at camp until I had to turn off into the dirt/mud. I took one look at the mud and decided I would carry my suitcase to our cabin so that it wouldn't get muddy. I had three bags (including my purse) plus my pillow in my arms. Let me tell you it was a sight. Here I am standing there trying to figure out how I am going to juggle everything without dropping it into the mud. I bend over and try picking up my suitcase. I realize that I can't carry it up the hill to the cabin. I am dropping things left and right. I set it back down and try again, but still not going to be able to make it. I set it down and I am trying to figure out if I should just make two trips or find my hubby. One the high school girls sweetly came over and offered to carry my bag for me. :) She's my hero. Thanks Marissa!
Sick
I love our totally awesome high schoolers. They are really amazing. The one thing I didn't like was all of the students who were sick (you know who you are... :) ) sharing their icky sickness with the leaders. Me and several others came home and got sick. Luckily for me, I have a super awesome hubby who took good care of me! :)
Remember the
book I won from Much Love, Illy
? Well, she is having a blogiversary giveaway!! She has 5
fantastic
giveaways going on all at the same time! Talk about crazy, fun, good times! So head on over to
Much Love, Illy
for her awesome giveaway! And good luck! :)