Good morning and welcome to...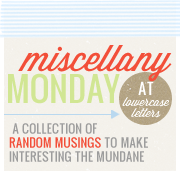 Hotels
Apparently the "new" thing at hotels is not actually having a comforter, but a blanket in between the sheets. Not sure who came up with that idea, but lucky for me I always bring my own pillow and blanket when I travel. A little piece of home so that I feel comfortable.
Women's Retreat
This weekend was women's retreat and our speaker was A-mazing. We were lucky enough to have Jennifer Strickland join us and share with us her story. She wrote the book
Girl Perfect
. I need to go grab a copy of her book, so that I can read it. She was great because she was so real with us. You should google hear and read her bio. Its so amazing to me, how God can take us from the darkest pits of despair and make us whole, clean, and new again. She truly has a powerful story.
Outlet Mall
I love them. :) I got to go on Saturday and I have to say, they are hit and miss, but this weekend I found some really great items for not very much at all. I was quite impressed with myself. Yay me! ;)
Friends
It always amazes me how blessed I am with the friends that God has placed in my life. This weekend was just another example of that. It was a great weekend for rekindling old friendship, strengthening existing friendships, and starting new ones.
Thanks to all the women who made this retreat possible. The hard work, prayer, time, and dedication that you put into it, is greatly appreciated. You are all amazing!
How was your weekend? What did you do?