just found out about this really neat blog hop from
hollywood chic
. click on the button to add your blog. you use all lowercase and list random thoughts from 6 categories. everyone can do this! i encourage you to join in the fun and make your monday interesting! :)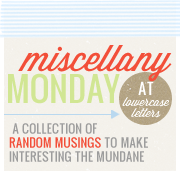 1- church
had a car wash for the high school students I work with on saturday. my feet are sun-tanned and my legs are bright white. tell me, how does that work? i look ridiculous.
2- nature
not sure what it is about me that attracts yucky bugs, but i feel like i was attacked all weekend. leave me alone bugs!
3- fashion
i have pink flip flops from old navy that match my nail polish. just sayin'.
4- normal day to day stuff
grocery shopping is overrated. its expensive and you have to do it like every week. i would rather buy shoes or clothes. this is why i'm not allowed to do the grocery shopping anymore.
5- sleep
my weekend was so jam-packed with events that i think i need a weekend from my weekend. sleep is for the weak. just give me caffeine. :)
6- love of my life
tonight my hubby works an overnight shift. this means no sleep and harry potter movies all night. i say, bring it on!